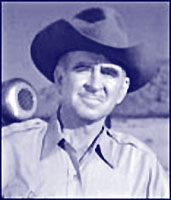 Ewing Mitchell was born in South Carolina on December 29, 1910. During the 1930s, he was a very popular Broadway performer and singer.
In the 1950s, Ewing was most known for his role as "Mitch" ("Sheriff Hargrove") on the Sky King, and also as "Sheriff Powers" in the 1955 Western series, 'The Adventures of Champion.'
Mitchell was a familiar face with numerous big-screen stars, in a host of Western and adventure films. He starred with Hugh Beaumont in 'Cavalry Charge' (1951), with Gene Autry in 'Winning of the West' (1953), with Gary Cooper in 'The Court Martial of Billy Mitchell' (1955), with Kirk Douglas in 'Man Without a Star' (1955), and with Clark Gable and Sidney Poitier in 'Band of Angels (1957). For a comprehensive list of his television appearances, visit the page on Ewing Mitchell at TVRage.
Ewing Mitchell died of a stroke in La Jolla, California on September 3, 1988. He was 77.
-credits to Kent Volgamore, Wikipedia.org and the Internet Movie Database