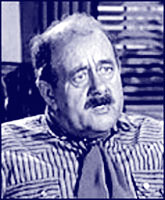 Chubby Johnson starred in 'Sky King' as the ranch foreman, "Jim Bell." He was born as Charles Rutledge Johnson on August 13, 1903, in Terre Haute, Indiana. He made a living as a journalist and did not become a movie actor until he was in his forties. Yet he continued to practice his craft as a member of the press, serving as a radio announcer as well as pounding the keys as a columnist, until he was nearly 50.
Chubby Johnson debuted in the Randolph Scott oater, 'Abilene Town' (1946) in support of Scott, Ann Dvorak, and Edgar Buchanan. He also appeared in the Errol Flynn horse opera 'Rocky Mountain' (1950) as part of an army of quirky character actors, including 'Guinn 'Big Boy' Williams' and "Slim Pickens." Then he quit the Fourth Estate for a Hollywood career.
Johnson also appeared in numerous films in support of big name stars, such as James Stewart in the Anthony Mann classic 'Bend of the River' (1952), and in 'The Far Country' (1954), which also featured character actor par excellence Walter Brennan, the movies' first triple-Oscar threat.
He then went on to appear in support of Doris Day in 'Calamity Jane' (1953), Audie Murphy in 'Gunsmoke' (1953), Ronald Reagan in 'Law and Order' (1953), Barbara Stanwyck and Ronnie, again, in 'Cattle Queen of Montana' (1954), and James Cagney in 'Tribute to a Bad Man' (1956), one of the legend's rare forays into the Western.
Chubby also supported James Garner in 'Support Your Local Sheriff!' (1969), and Burt Reynolds in his audacious debut as a big-screen star as the eponymous 'Sam Whiskey' (1969). Unaccredited, he appeared in the classic 'High Noon' (1952).
Chubby was also a guest on many other TV Westerns, including 'Bonanza' (1959), 'Gunsmoke' (1955), and 'The Rifleman' (1958). For additional information about his acting roles, visit the page on Chubby Johnson at TVRage.
Chubby Johnson died on Halloween Day 1974 in Hollywood, California, from complications from a leg infection.
-credits to Kent Volgamore, Wikipedia.org and the Internet Movie Database