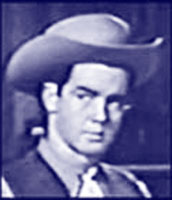 Ronald F. Hagerthy was born on March 9, 1932 in South Dakota. He portrayed "Clipper King," Sky's nephew, in the Sky King television series.
Ron's first screen role was as 19-year-old "Dick Cvetic" in the 1951 Warner Brothers film, 'I Was a Communist for the FBI.' The film inspired the syndicated television series, 'I Led Three Lives.'
Hagerthy's acting career spanned from the early 1950′s to 1968. He was known primarily for his supporting character roles in Westerns and dramas, in both movies and television shows. He appeared in shows such as 'Bonanza,' 'Gunsmoke,' 'Lassie,' 'The Beverly Hillbillies,' 'The Twilight Zone' and many more. For a comprehensive list of Ron Hagerthy's acting accomplishments, visit the page on Ron Hagerthy at wikipedia.org.
After his acting career ended in 1968, Ron Hagerthy entered the real estate business in southern California. Today he lives with his wife in Newport Beach, California.
-credits to Kent Volgamore, Wikipedia.org and the Internet Movie Database