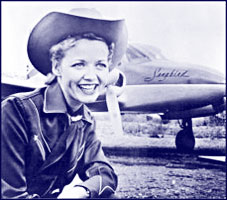 Gloria Winters was born November 28, 1932, in Los Angeles, California, and she began acting when she was a child. Small roles in movies led her to be cast as William Bendix's daughter, "Babs" on the television series, 'The Life of Riley' (1949). The show ran during the 1949 to 1950 season.
Gloria was in about twenty films altogether and also appeared on stage. She made numerous television appearances in a variety of shows, such as 'Judge Roy Bean,' 'The Adventures of Wild Bill Hickok,' 'Sheriff of Cochise,' 'The Lone Ranger,' 'The Roy Rogers Show,' 'The Dick Powell Show,' 'The Jack Benny Show,' 'The Bob Hope Show,' 'The Gene Autry Show' and 'Death Valley Days.' In 1954, she appeared as "Little Britches" in an episode of the syndicated Western, 'Stories of the Century,' starring and narrated by Jim Davis.
For a comprehensive list of her acting accomplishments, visit the page on Gloria Winters at the Internet Movie Database.
Gloria is most noted for playing the niece, "Penny King," in the Sky King television series. During the series, she began dating the show's sound engineer, and the dating soon led to marriage. She retired from show business after 'Sky King' ended, but she remained close to Kirby Grant until his death in 1985.
In 1964, Gloria Winters authored 'Penny's Guide to Teen-Age Charm and Popularity' (Prentice Hall), an etiquette book for young girls. The book inspired the band, Nada Surf, for its 1996 single hit, 'Popular.' In 2002, won a 'Golden Boot Award' as a 'Sweetheart of the West.'
Gloria died of pneumonia in August 2010, while in hospice care in California.
-credits to Kent Volgamore, Wikipedia.org and the Internet Movie Database