The Sky King DVD Box Set
Regular Price $249.00 + 9.95 Shipping = $258.95

Get the Sky King Super High Quality Box Set with all 72 Episodes on 18 DVD's. Know what you are buying and what makes ours the best! You will not find the original, complete Sky King series with a clearer video and audio quality!
GET THE ONE WITH TRUE QUALITY IN THE BOX!

The Matching Leatherette Book Completes The Set as a Beautiful Gift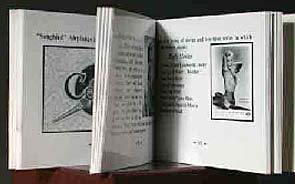 Our Sky King DVD Box Set comes with a professionally bound 132-page book. The book is packed with Sky King information. It includes credits, photos, trivia and more!
The matching maroon leatherette box and book both have gold stamped titles. The set makes a beautiful gift for any Sky King fan.
"I ordered this set for my husband for Christmas. He was thrilled. He has been an airplane "junkie" since the age of 5 or so. He was an Air Force Pilot (now retired), and now indulges his craving by flying radio control models. He lives and breathes airplanes, and Sky King was his childhood hero. He was very happy with his gift."
– J. Keck, Customer
The Sky King VHS Box Set
Regular Price $124.95 + 9.95 Shipping = $134.90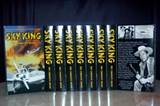 Buy the Sky King Collection on high quality VHS Tapes in beautiful video boxes. There are 9 tapes, arranged in the original chronological order.
BONUS!
While our VHS set does not normally include the 132-page booklet, for a limited time we are including the booklet with the VHS version (while supplies last).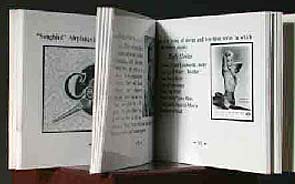 This is a professionally bound 132-Page Book. It is packed with information about Sky King that you might never know otherwise.
The book includes pictures, show summaries and more. Discover many interesting bits of information about the major and minor characters who played throughout the series.