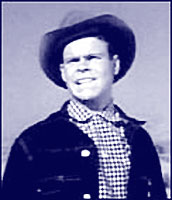 Norman Ollestad was born on September 7, 1935. In the Sky King television series, he played the role of "Bob Carey," Sky's neighbor, and the son of the Mayor of Grover, Arizona.
Ollestad's performed as an actor in the 1940′s to the early 1960′s. Other than his Sky King stardom, many of his appearances were small and unaccredited. For a list of his television and screen roles, visit the page on Norman Ollestad, at the Internet Movie Database.
Norman died on February 19, 1979 in San Bernardino County, California, at 43 years old. His cause of death, (a plane crash), is posted by his surviving son, Norman Ollestad Jr. here.
-credits to Norman Ollestad Jr., Kent Volgamore and Wikipedia.org