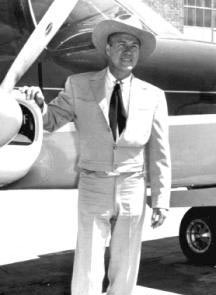 Kirby Grant Hoon Jr. was born on November 24, 1911 in Butte, Montana. In his early acting career until 1945, he used the name "Robert Stanton." (The name was also used by actor Robert "Bob" Haymes.)
When he was a child, Grant won a scholarship to the American Conservatory of Music in Chicago, as a violinist and singer. At one time, he led a dance band. He also dabbled in sculpturing.
In the 1930s, Kirby Grant began as a B-movie actor, playing roles as cowboys and Canadian Mounties in over 50 films altogether. He played a violinist in the film, 'I Dream Too Much' (1935), which starred Henry Fonda. In his second movie, 'Red River Range,' Grant played the role of "Tex Riley," to assist John Wayne and Crash Corrigan in a ploy to catch cattle rustlers. For a comprehensive list of his acting accomplishments, visit the page on Kirby Grant at the Internet Movie Database.
Kirby Grant is most fondly remembered today for his title role of Schuyler "Sky" King, in the televised 'Sky King' series. It was a role of a wealthy gentleman rancher in Arizona, who used his twin engine Cessna to capture evil-doers and rescue people in trouble. In the series, his plane was named the "Songbird," and his ranch was the "Flying Crown Ranch." In real life, Grant was a pilot, and it was his personal plane that was used in the first few years of the televised series.
As 'Sky King' continued in syndication for years after it ended, (in 1962), Grant became an icon to the aviation community. Although he did little acting after it ended, he and co-star Gloria Winters were in demand for numerous personal appearances at fairs and aviation events. Additionally, he traveled with the Carson and Barnes Circus from 1967 to when he retired in 1970. After Grant retired, he bought the title and rights to 'Sky King' (1953), and he became a Public Relations Director for 'Sea World' in Florida.
Grant and his wife, Carolyn, had three children. In the early 1970s they moved from California to Florida. The couple founded the nonprofit 'Sky King Youth Ranches of America,' which provided homes for underprivileged children. Grant had plans to resurrect the 'Sky King' series, with the Flying Crown Ranch becoming a home for underprivileged children and telling their stories, but it never materialized.
Kirby Grant died in a car accident on October 30, 1985, near Titusville, Florida. He was on his way to watch the launch of the Space Shuttle Challenger at Cape Canaveral, where he was to be honored by the astronauts for encouraging aviation and space flight. He was 73.
-credits to Kent Volgamore, Wikipedia.org and the Internet Movie Database