Everybody has a right to his or her opinion, and that includes you! We welcome you to leave your comments in our public guest book, so that you may share them with other visitors. Yes, we'd like to hear from you!
Feel free to share your photos with us also and we will put them with your comment. And if you have Sky King photos to share, we will gladly add them to our Photo Gallery!




---

May 30, 2016




All I can do is mirror the sentiments of everyone else that has written. I watched Sky King as a child and eventually became an airline pilot myself. I am retired now and have fond memories of that show. I do wonder many times why Sky King is not playing on TV Land, Nickelodeon, or any of the other channels that show old TV shows. I would love to see that. I remember the Saturday afternoon lineup of shows and Sky King was my favorite. I didn't know until years later that the cockpit of those airplanes weren't as roomy as on TV.




---
April 25, 2016
Sky King's Bamboo Bomber and Cessna 310 were the highlights of my Saturday mornings. He was someone to look up to, projecting good morals and using the latest tech.
Watching him and Penny fly out of the desert ranch sparked my passion for desert runways and ranches, Cessnas and Penny. I became a pilot, studied amateur radio, and adventured around desert runways.
I also met a girl like Penny and married her; now we have 3 sons who watch Sky King and explore the desert with me.
I still fly and look for remote desert runways where I can remember those special Saturday mornings of my youth.
Robert Gregory


---
April 18, 2016
I knew Nancy Hoon Logozzo, Kirby Grant's real niece. She was a wonderful Montana girl . She passed away in 2011, a year after Gloria Winters. I just wondered if anyone knows if the real "Penny" and the actress ever met. Nancy was born in 1949 so she was a baby when Sky King was being filmed, but I wondered if they ever met later on. I would love to have a photo of the two of them together if one exists.
Sage S.
---
Dec. 19, 2015
Back in the 1950's my Saturday mornings were spent watching, Rin Tin Tin, Fury and Sky King; then it was lunch time. That was such a great time to grow up watching these great TV shows. I am excited to receive my DVD set so I can relive a part of my youth! Thanks,
A fan from Illinois,
Rita M.
---
Aug. 17, 2015
Like a lot of pilots, the radio show was a formative influence on me.
In the stuff I read on the internet regarding the show aircraft, I could find no reference to a second aircraft called the Arrow.
Memory is fuzzy but I thought there was a "jet" aircraft that was also involved in some of the radio episodes?
Can anyone verify/
KK
---
August 9, 2015
I have been a Fan Of Sky King since I was a kid. ( I am 62 yrs young now).. It was a Thrill for me to find out my Wife and I had bought a House in Apple Valley, Ca , that is about a mile (As the Songbird flies LOL) from The Original Flying Crown Ranch on Rancherias Rd. Just Below another Famous Landmark of Apple Valley, The Hilltop House ..Where the Founder of Apple Valley Newt Bass) used to live
..The Songbird used to fly out of the old Apple Valley Airport right across the road from The Ranch ( I can stand on my pool deck and imagine the Songbird flying over head as i look up from my lounge { and the Songbird was parked there in front of the house for shooting.the stock footage The only thing recognizable from the old Ranch is the Chimney as the Facade has been changed totally .. here is the old picture with the Songbird. and the new Facade without it. The Ranch was up for Sale but is now off the Market Enjoy A J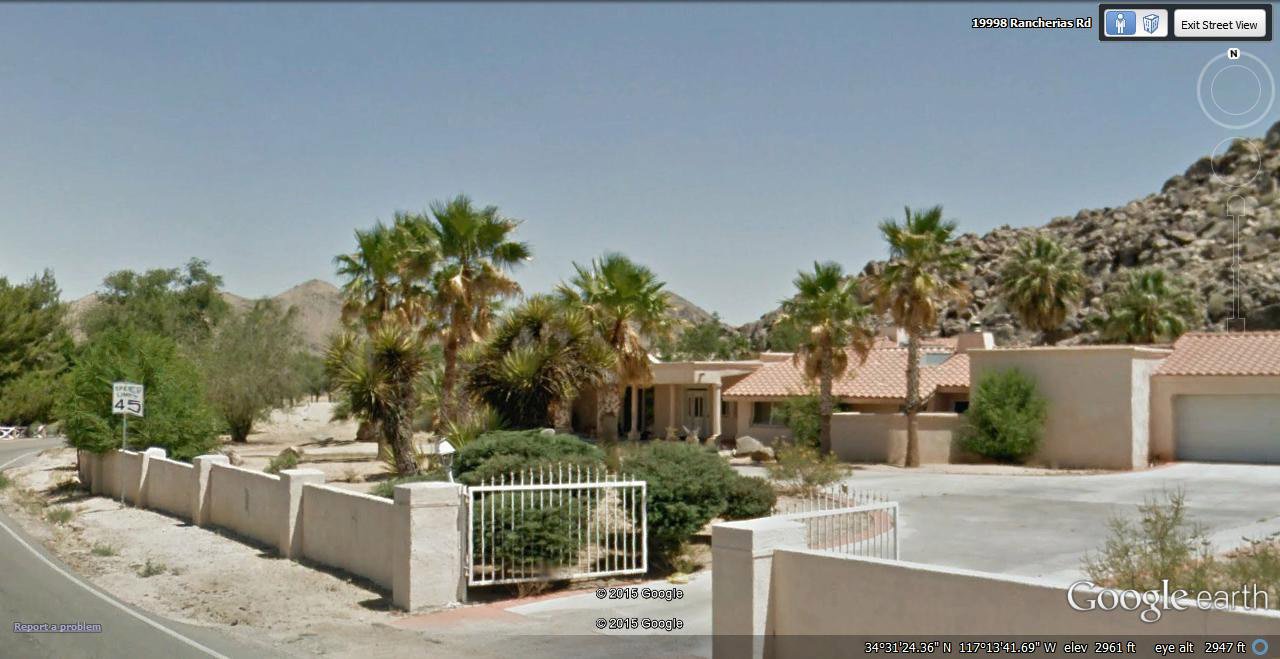 ---